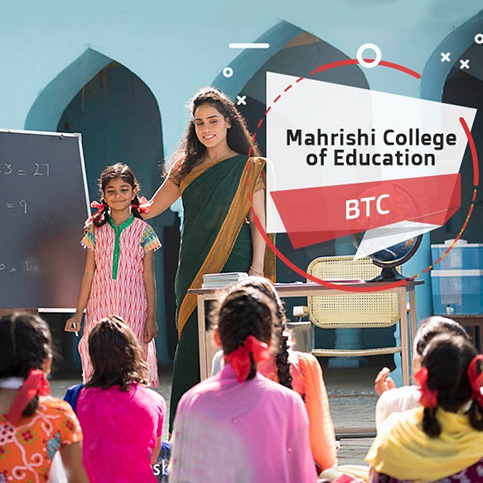 Courses : BTC (D.El.Ed) | College Code - 360009
Maharishi College of Education (BTC) is located in Kaushambi and offers the Teacher Training Program (D.El.Ed). We are a part of Chitravansham Group of College and are managed by Chitravansham Society.

This college was started by Chitravansham Society with an objective to prepare students who are able to gradually estimate and advance their skills and knowledge.

It is a 2-year Diploma in Elementary Education for the hiring of a teacher in government schools and private schools. You will get all the facilities along with the curricular activities by which you can enhance your skills and abilities. The student will get the chance to enhance their creative thinking and an aptitude for teaching; good communication skills; and patience. For the admission in this best college for BTC, the candidate needs to follow eligibility criteria which are mentioned below:

a. For admission, you need to follow the guidelines of SCERT released by the UP government.
b. The minimum qualification required is a graduation degree from the recognized university or equivalent qualification.

We deliver the finest learning experiences and services that lead to the success of the students. You will get more practical knowledge in our modern labs. The faculty members are experienced that provide you the best way of learning. You will get all the benefits and advanced learning methods that help you in becoming an expert. You will get the opportunity to take regular internships during your semester studies. We also provide e-learning and smart classes to all our students.

The scope of the 2-year D.El.Ed for the employment of a quality teacher in Government Schools is increasing day by day. The course provides you the opportunities in government schools and private schools in India.

The courses that we offer are structured in such a way that it gives them the value of training their skills and helps them in taking their career forward. It is our motive to make our students capable of facing and winning each and every challenge that occurs in their life. Thus, we make sure that our students will get the best skills and knowledge.