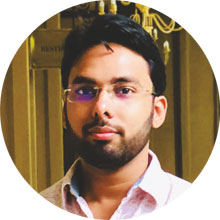 Chitravansham Group of College
Passion, hard work and dedication go hand in hand.
My aim is to educate the young minds and aspire them for the best careers so that they can become the dynamic leaders of the nation.
Chitravansham
is not just a group of institutions, that helps the students to build their career, but is an environment that helps the students to realize what their real ambition is. We believe in changing the perspective of the students for their lives and we hold a mission to see that we nurture truly great leaders. We celebrate the festival of learning throughout the year and make our students capable enough that they can take on any challenge that they face in their journey towards success.
The college is not known for holistic education rather for the comprehensive growth of the learners. I believe that every student at
Chitravansham
pushes beyond their ability and delivers unexpected results. With the perfect blend of passion and strength, we improvise the skills and carve them for better skills. We create the leaders that know how to build their own path of success and do not follow the folks. Our excellent faculty and the cooperative staff inculcates the spirit of education, hunger for perfection and passion for learning, along with sincerity and loyalty among the students.
Not to spoon-feed them, but we let them make their ideas go on working in practical life. Thus, enabling them with better and strong learning. We groom the young and future leaders to a competent and proficient professional who leads the world.
Our students will hold the baton of leadership. This isn't a dream only but it is my word as well.
Mr.Prakhar Srivastava
Director